Application of Jaw Crusher
Sansung Jaw crusher is a trusted and reliable brand for its high quality and good manufacturing. Jaw Crusher which is widely applied to crush high hardness, mid hardness and soft rocks and ores such as slag, construction materials, marble, etc. The pressure resistance strength is under 245Mpa that is suitable for primary crush. Each model has a large feed opening for its size and an ideal nip angle, giving smooth material flow, high reduction efficiency and high capacity. Their simple design conceals many advanced features that give easy operation, simple maintenance, long life and a low cost.
Structure of Jaw Crusher:
The structure of Jaw Crusher includes Main Frame, Main Axle, Roller Bearings, Eccentric Shaft,Jaw Plates, Side Plates, Toggle Mechanism, Fly Wheels and Springs.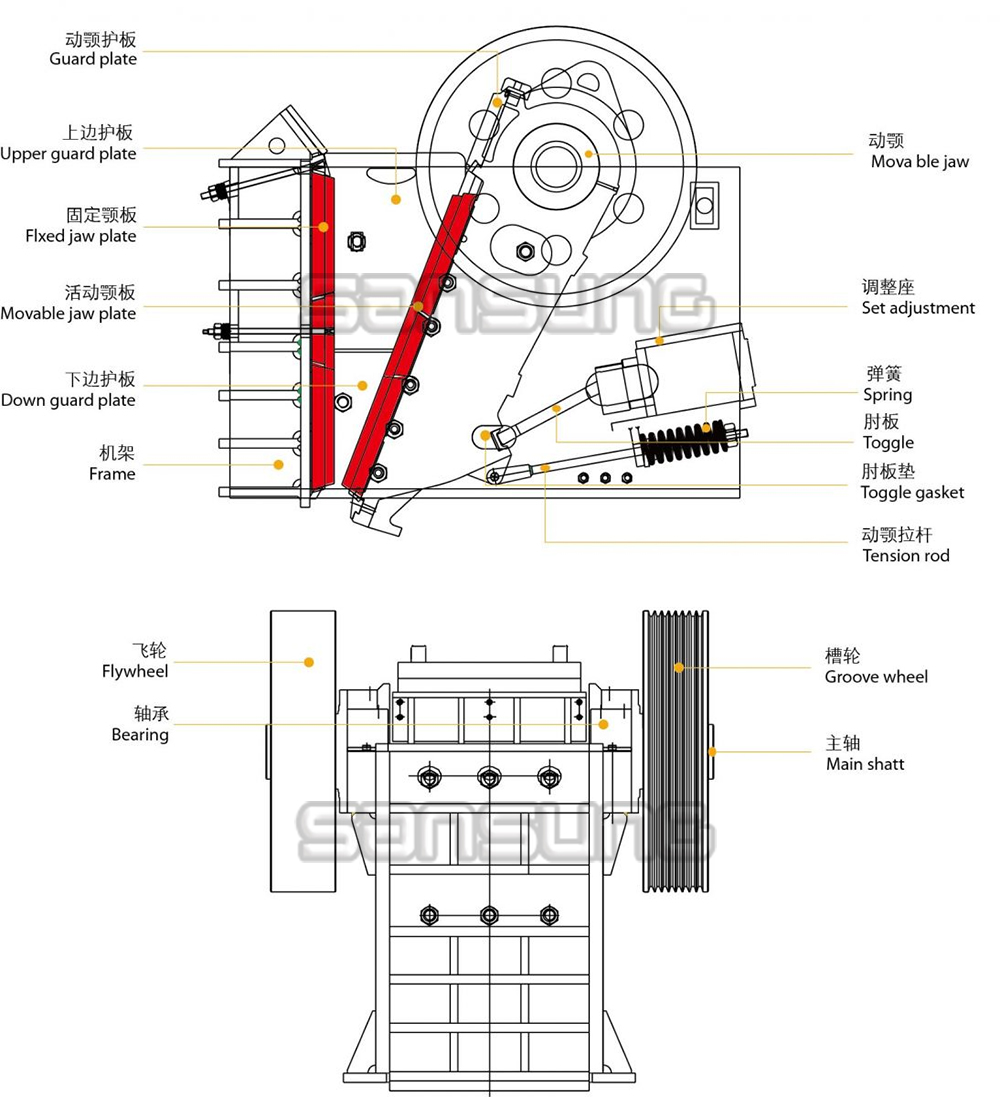 Features of Jaw Crusher:

1. Jaw Crusher is of various types;
2. Jaw Crusher is suitable for crushing maximum, medium and minimum stones;
3. The operating principle of Jaw Crusher is easy to be operated;
4. The structure of Jaw Crusher is simple and it is easy to maintain;


Operating principle of Jaw crusher:

Jaw crusher uses motor as its power. Through the motor's wheels, the eccentric shaft is driven by the triangle belt and slot wheel to make the movable jaw plate move by a regulated track. Therefore, the materials in the crushing cavity composed of fixed jaw plate, movable jaw plateand side-lee board can be crushed and discharged through the discharging opening.

Technical parameter of Jaw Crusher:
Type

Feed

opening
(mm)

Max

feeding size
(mm)

Adjusting range of

discharge opening
(mm)

Capacity

(t/h)

Rotation speed

of eccentric shaft
(r/min)

Motor

power
(kw)

Total weight
(t)

Dimensions
(LxWxH)
(mm)

PE-150x250

150x250

125

10-40

1-3

250

5.5

0.6

720x660x850

PE-200x300

200x300

180

15-50

2-6

260

7.5

1

910x750x990

PE-200x350

200x350

180

18-70

3-10

260

11

1.3

1000x870x990

PE-250x400

250x400

210

20-60

5-20

300

15

2.8

1300x1090x1270

PE-400x600

400x600

340

40-100

16-60

275

30

7

1730x1730x1630

PE-500x750

500x750

425

50-100

40-110

275

55

12

1980x2080x1870

PE-600x900II

600x900

500

65-160

50-180

250

55-75

17

2190x2206x2300

PE-600x900

600x900

500

75-200

60-200

250

75

20

2290x2290x2400

PE-750x1060

750x1060

630

80-140

115-330

250

110

29

2660x2430x 800

PE-870x1060

870x1060

660

200-260

290-336

250

110

31.5

2810x2430x2800

PE-900x1060

900x1060

685

230-290

160-400

250

110

33

2870x2420x2940

PE-900x1200

900x1200

750

95-165

220-450

200

110

52

3380x2870x3330

PE-1000x1200

1000x1200

850

195-265

315-500

200

110

55

3480x3876x3330

PE-1200x1500

1200x1500

1020

150-300

400-800

180

160

100.9

4200x3300x3500

PEX-150x750

150x750

120

18-48

8-25

320

15

3.8

1200x1530x1060

PEX-250x750

250x750

210

25-60

13-35

330

30

5.5

1380x1750x1540

PEX-250x1000

250x1000

210

25-60

16-52

330

37

7

1560x1950x1390

PEX-250x1200

250x1200

210

25-60

20-61

330

45

8.5

2140x1660x1500

PEX-300x1300

300x1300

250

20-90

16-105

300

75

11

2720x1950x1600